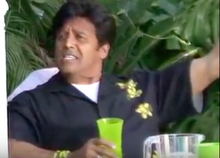 Erik Estrada is an American actor and voice actor. He is best known for starring on TV shows like CHiPs.
He appeared as himself, along with Vivica A. Fox, on Cool Cat Saves the Kids. He is known for saying the line, "Dere he is!" and "That kid kicked sand in Cool Cat's Face.
Unlike Cool Cat and many other actors in the film, Erick Estrada is actually a decent actor who is very experienced.
D E R E H E I S