Cool Cat Stops a School Shooting
was an upcoming Cool Cat film directed by
Derek Savage
. It was supposed to star the YouTube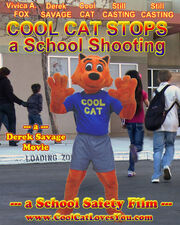 personality
Mumkey Jones
. In which he made a deal with
Derek Savage
to star in the films: ☀
https://www.youtube.com/watch?v=G4Na-O6-qsY
https://www.youtube.com/watch?v=T1e2vIfRpRY 
Derek backs out of this which is explained in this video:  
☀https://www.youtube.com/watch?v=QVw9iKXBbV8  
Derek Savage's escription for the film : 
 "These School Shootings are making me mad, and all I keep hearing is 'What can we do?' Well, I have a solution that can help with this tragic problem. And it's COOL CAT...In 'COOL CAT STOPS A SCHOOL SHOOTING – a School Safety Film', Cool Cat is in class when an active shooter, played by Mumkey Jones, attacks his school, and Cool Cat will show children different techniques and safety tips on what to do to stay safe, and then Cool Cat comes face-to-face with the shooter – But what happens then!" 
Fan Art
Indiegogo Link
Help Daddy Derek and Cool Cat bring this project to life!
https://www.indiegogo.com/projects/cool-cat-stops-a-school-shooting-a-safety-film--2#/